The Global Village Collection (The GVC) is in Delaware, Ohio. GVC has been around for over 20 years. They were selling fair trade items before it was cool!

The GVC is a certifiedfair trade retail store in the state of Ohio. The GVC is non-profit and is almost entirely run by volunteers.

Check out their new website TheGVC.org that I was able to help them launch (with the help of a trusted colleague, John Young from Shout it Out Design) this fall.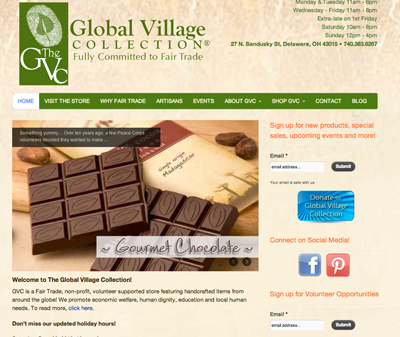 GVC has a ton of wonderful (and affordable) gifts including amazing chocolates and coffee, kids and baby toys and clothes, jewelry, accessories, gourmet sauces and much more! 
Delaware is a wonderful small city just north of Columbus. It has fantastic restaurants and shopping (including The GVC of course).